Bamburgh Castle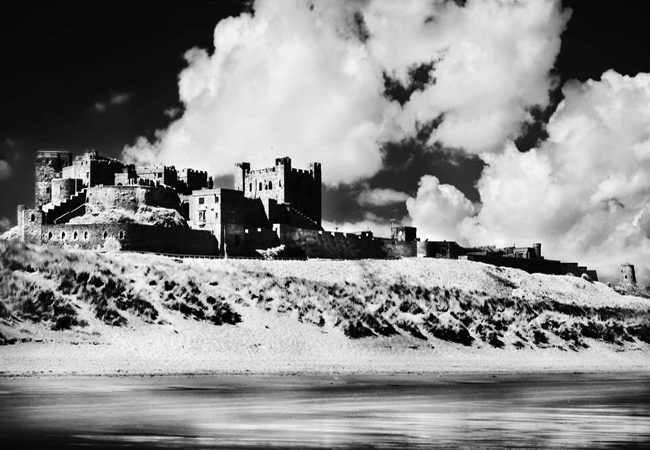 Bamburgh Castle, Northumberland
Bamburgh Castle has a dramatic setting. It dominates the landscape for miles around, boasting spectacular views across the sea towards Holy Island. Built on a natural plateau of volcanic rock, the castle's defensive merits are obvious. The site has been fortified at least since Saxon times.
Paintings of Bamburgh from the eighteenth and nineteenth centuries often depict the castle during a storm, with the waves lashing the base of the castle rock. This is usually dismissed as artistic license, given that today the castle is cut off from the sea by a dune field and a beach. However, the first Ordnance Survey map of Bamburgh, which dates to 1860, shows the high tide reaching the north end of the rock. During the medieval period it is likely that the sea reached even further inland, and that an inlet near the castle could have functioned as a small port.
During the Wars of the Roses, after the Battle of Towton, Bamburgh became the hub of Lancastrian resistance in the north. For several years the castles of Northumberland changed hands with bewildering frequency, although by June 1464 the struggle in the north was nearing an end. The Earl of Warwick and his brother John laid siege to Bamburgh, which was now the Lancastrians' only stronghold in Northumberland. 'Great guns' were transported by sea from Calais, and the castle endured a destructive bombardment. The garrison surrendered when their commander, Sir Ralph Grey, was badly wounded by falling masonry (Grey was later executed at Doncaster).
By the eighteenth century the castle was a ruin, but it was extensively restored in the 1890s at the behest of a new owner, Lord William Armstrong. Bamburgh's modern appearance owes a great deal to this work, although much of the castle's original fabric was retained.
| | |
| --- | --- |
| | |