Calais Harbour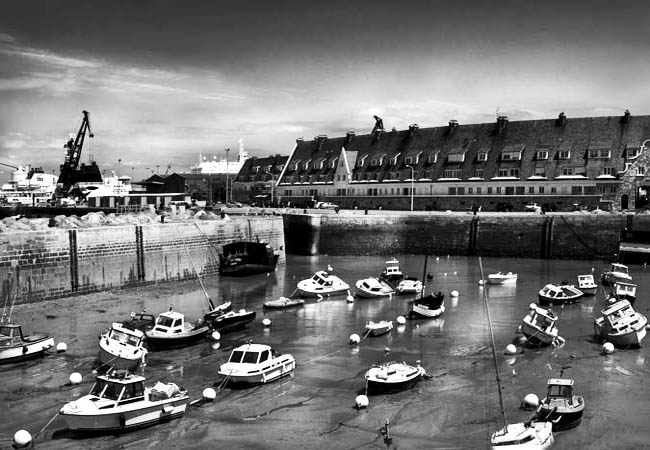 Calais, France
The port of Calais was captured by the English in 1346, and it remained part of the English realm for over two hundred years. (During the Yorkist period the English also controlled 'the Pale', an area of approximately 150 square miles that surrounded the town.) However, few traces of the English occupation can be seen today: Calais suffered from heavy bombing during the Second World War, and much of the medieval town was destroyed. The Bassin du Paradis (pictured) is a notable exception. Now the oldest dock in Calais, it is thought to be named after an English family who lived in the area.
The English kings spent vast sums of money on the defence of Calais. Edward IV, for example, bought over two hundred brass handguns from specialist manufacturers in Flanders, to ensure that the garrison was equipped with the latest weaponry. Calais was also protected by an impressive network of fortifications; the walls and towers were supplemented by water defences, which were controlled by a sophisticated system of sluices.
During the Wars of the Roses, Calais was a stronghold of the Earl of Warwick (who was Captain of Calais), providing him with a source of elite troops, a base for his powerful fleet and (in adversity) a bolt-hole. However, Calais also played an important role in more peaceful times. From 1363 Calais was designated as the
staple
port for English exports of wool and leather to the Continent. Foreign merchants who wished to purchase these goods were therefore legally bound to make their transactions in Calais, meaning that much of England's export trade was carried out through the town.
Calais was eventually recovered by the French in 1558, marking the end – after hundreds of years - of English ambitions to control territory on the European mainland. Thereafter the English began to shift their focus towards the Atlantic, with all that ultimately entailed.
| | |
| --- | --- |
| | |