Damme Town Hall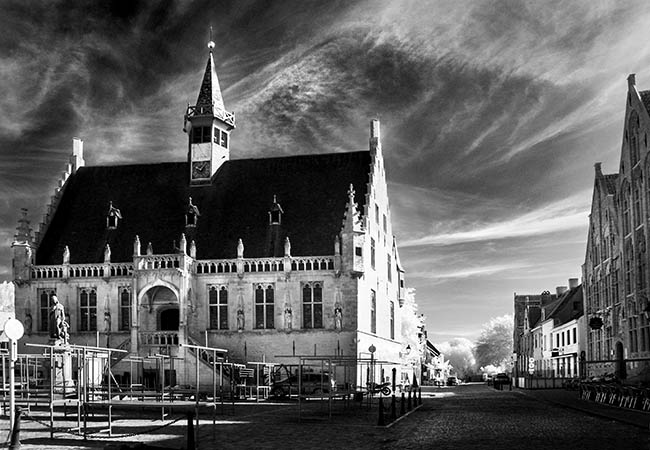 Damme, Belgium
During the Yorkist period Damme was part of the duchy of Burgundy. The town had come to prominence in the early Middle Ages as a port on the River Zwin, but as the river silted up Damme's star began to wane. Nevertheless, it remained a prosperous place. As the foreport of Bruges - then one of the most dynamic cities in Europe - Damme's wharves were often busy with luxury goods bound for the ducal court.
On 3 July 1468 Damme was the setting for the marriage between Duke Charles 'the Bold' of Burgundy and Margaret of York, the younger sister of Edward IV. The ceremony, which took place early in the morning, was celebrated in the house of Eustace Weyts, the ducal steward (Weyts' house was on the street stretching towards the horizon). After attending Mass the couple moved on by barge to Bruges, where Margaret was greeted by a series of processions and pageants. The splendour of this occasion is attested in various sources, and these events have become an important part of the region's heritage. Margaret's arrival is commemorated every five years by a colourful re-enactment.
The marriage set the seal on a 'treaty of friendship' between England and Burgundy which had profound implications for the Yorkist realm. Crucially, the treaty (eventually) brought an end to a damaging trade war between England and Burgundy, although the political outcomes are more difficult to assess.
The ornate building in the photograph is the town hall, or
stadhuis
, of Damme. The town hall had been recently completed at the time of Charles and Margaret's wedding, and is widely regarded today as a particularly fine example of the late gothic style. The stalls in the foreground are for a monthly book fair - Damme is now officially a 'book town'.
| | |
| --- | --- |
| | |