Eltham Palace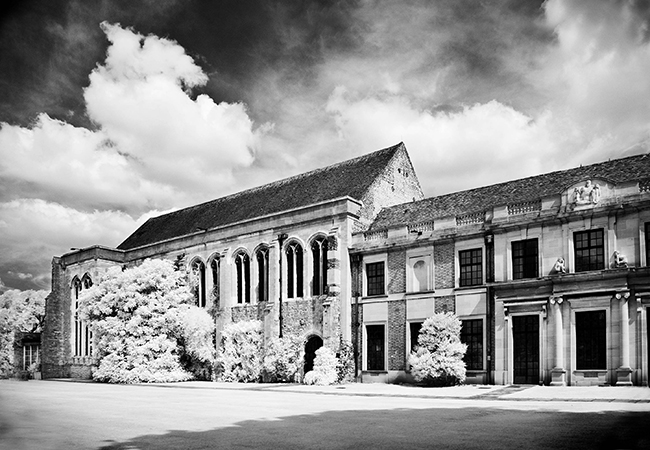 Eltham Palace, Greater London
Eltham was an important royal palace for much of the late medieval period, and it was a particular favourite of Edward IV. Edward spent large sums on various building projects (including programmes at Ludlow, Nottingham and Windsor), and Eltham was refurbished on a lavish scale. His most significant addition was the great hall, probably completed in the late 1470s, which is justly celebrated for its magnificent
hammerbeam
roof.
Eltham was the setting for spectacular events. The royal family spent Christmas at the palace in 1482, for instance, hosting a feast for more than 2000 guests. Edward also followed the example of his predecessors by holding tournaments at Eltham. A 'tourney' of 1466 included a famous combat, involving two small teams of men, in which Edward himself took part.
Sir John Paston fought on the king's side. Though he was slightly wounded (sustaining an injury to one of his hands), Sir John was evidently very proud of his role in the proceedings. As he wrote to his brother (who was also confusingly named John):
"
I would that you had been there and seen it [the tourney], for it was the goodliest sight that was seen in England these forty years
."
The younger Paston was by no means immune to the charms of courtly life, but on this occasion, as he struggled to defend the family's interests back in Norfolk, he was distinctly unimpressed:
"
Whereas it pleases you for to wish me at Eltham for the tourney for the good sight that was there, by troth I had rather see you once in Caister Hall than to see as many King's tourneys as might be between Eltham and London
."
The palace was badly treated during the Civil War and subsequently became a ruin. During the 1930s Eltham was acquired by the Courtauld family. What remained of the palace was remodelled into an Art Deco mansion, although the great hall was conserved. Eltham is now in the care of English Heritage.
| | |
| --- | --- |
| | |