Harlech Castle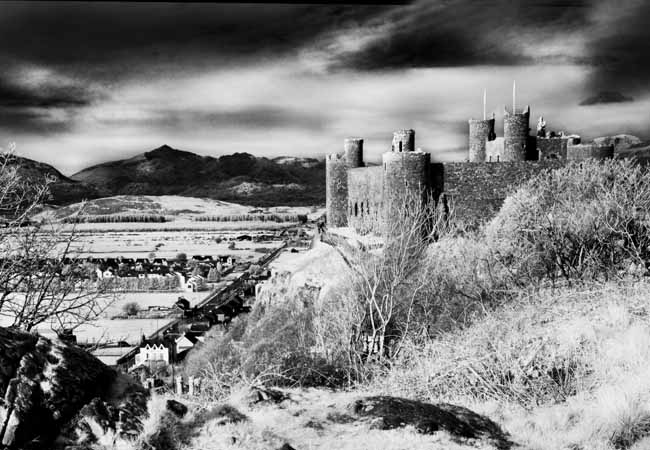 Harlech Castle, Gwynedd
Sited on a natural spur of sandstone, jutting out towards the sea, with the majestic mountains of Snowdonia to the north, Harlech Castle appears to have been built in such a way as to achieve a perfect harmony with the landscape. It was constructed in the 1280s on the orders of Edward I, who had recently conquered Gwynedd (the last independent Welsh principality). Harlech was designed by the master mason James of St George, and it was part of a chain of castles that were intended to keep the native Welsh in check.
During the Wars of the Roses, Harlech played a prominent role. As resistance elsewhere failed, the castle, under the command of Dafydd ap Einion, became the last refuge of die-hard Lancastrians. But in the spring of 1468 Edward IV decided that Harlech must finally be brought to heel. Command was delegated to William, Lord Herbert, Edward IV's foremost supporter in Wales. Herbert waged a savage campaign, and a ferocious artillery bombardment eventually forced the garrison to surrender.
It is often suggested that the resistance offered by the Lancastrian garrison was the inspiration for the song
Men of Harlech
, but in the immediate aftermath of the siege it was the
capture
of the castle that was celebrated in verse. Herbert was created Earl of Pembroke as a reward for his service, and the poet Guto'r Glyn exhorted him to use his power to help the Welsh people ('and should England resent it, Wales will rally to your side!'). Herbert's new eminence would be short-lived, however. He was executed in the following year, on the orders of the Earl of Warwick, after his defeat at the Battle of Edgecote.
After the siege of 1468 Harlech was allowed to decay, although much of its stonework remains intact. It is now in the care of Cadw.
| | |
| --- | --- |
| | |