King's College Chapel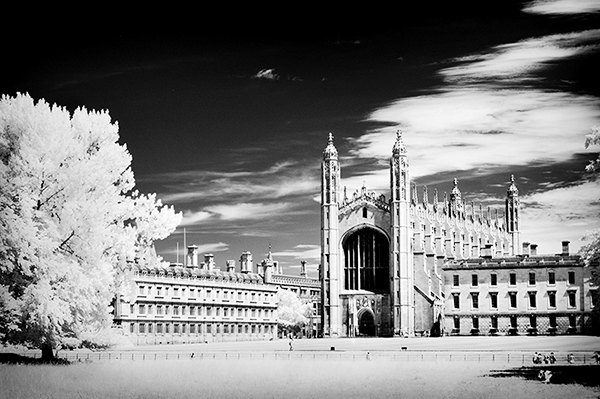 King's College Chapel, Cambridge



King's College Chapel, seen here from afar, is one of England's most famous religious buildings. It is familiar to millions as the venue for a popular Christmas carol service (which is annually televised by the BBC). The college itself was established by King Henry VI, who was then still in his teens. Along with his foundation at Eton (which he later intended to become a feeder school for King's), this was one of Henry's most cherished projects. It was hoped that graduates would go on to fill gaps in the parish clergy, as well as contributing to the fight against heresy.

Building started in 1441, when King Henry symbolically laid the first stone. Soon, though, it would appear that he became dissatisfied with the project. More land was acquired to make space for a much grander development, including the college chapel. A detailed schedule for the works here survives from March 1448, when Henry drew up his latest 'will and intent' for King's (as well as for Eton). The new plans envisaged a magnificent complex, filled with beautiful buildings, although the chapel was given special priority; its design was modelled on a cathedral nave. As Henry's reign progressed, however, the political disruption elsewhere had inevitable repercussions. When he was finally deposed, in 1461, the chapel's construction came to an abrupt halt.

Edward IV showed little interest in his predecessor's foundation, at least at first, and most of Henry's plans were quietly abandoned. Work on the chapel did resume in the late 1470s, although the accession of Richard III provided a greater sense of urgency. The new king had already supported other developments at Cambridge, and he was determined that the building 'should go on with all possible despatch'. He provided extensive funds, officials were to 'press workmen and all possible hands' – and anyone who hindered the project was to be imprisoned! By 1485 the chapel was well advanced (there are records of the activities of plumbers and glaziers), yet it seems likely that work there would have continued for many years. Ambitious plans for the addition of a tower, which are now preserved in the British Library, have been plausibly dated to Richard's reign.

Richard's death led to another break in the construction. The chapel was finally completed in the reign of Henry VIII – albeit without the proposed tower. Its notable features include some spectacular fan vaulting, and it is widely regarded as one of the finest surviving examples of the perpendicular style. What is more, for many people its image is now synonymous with Christmas Eve, making the chapel a much-loved part of England's heritage.