Kirby Muxloe Castle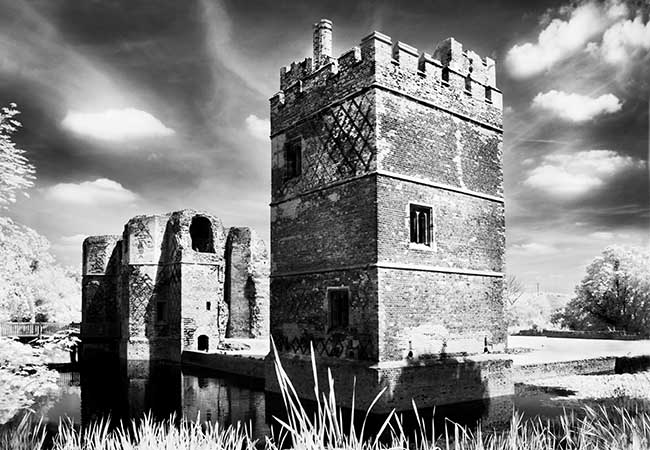 Kirby Muxloe Castle, Leicestershire



This was one of two major building projects commissioned by William, Lord Hastings (the other was at nearby Ashby de la Zouch). In the early 1460s Hastings formed a strong friendship with Edward IV. As Edward's chamberlain, Hastings' closeness to the king brought him great power and wealth. After Edward's death, however, he appears to have conspired against Richard III (who was then still Lord Protector). Hastings was arrested and executed on 13 June 1483.

Work began at Kirby in 1480. The site was already occupied by a small castle or manor house, although much of this was demolished. Most of the new building was carried out in brick – an increasingly fashionable material at this time – and bricks were fired at a kiln on-site. European specialists were recruited to create decorative designs in the brickwork; the well-preserved west tower (pictured) provides testimony to their skill. Less skilled, perhaps, were the workmen who inserted the first set of gun-loops in the gatehouse – not realizing they would be below the waterline when the moat was filled!

Evidently the ageing Lord Hastings was keen to see the project completed. Work continued throughout the winter during 1482-3. Unsurprisingly, Hastings' execution brought an abrupt halt to the construction, although his family was allowed to inherit his lands. Three months later work resumed at Kirby, albeit on a drastically reduced scale. Hastings' widow may have lived at Kirby for some time – her will refers to tapestries that were kept there - but the castle was never finished.

Kirby's later history is undistinguished. For many years it was used as a farmyard, but in 1911-13 the castle was excavated and later additions were removed. Today Kirby is in the care of English Heritage, serving as a poignant memorial to Lord Hastings' dramatic rise and fall.

| | |
| --- | --- |
| | |