Leighton Buzzard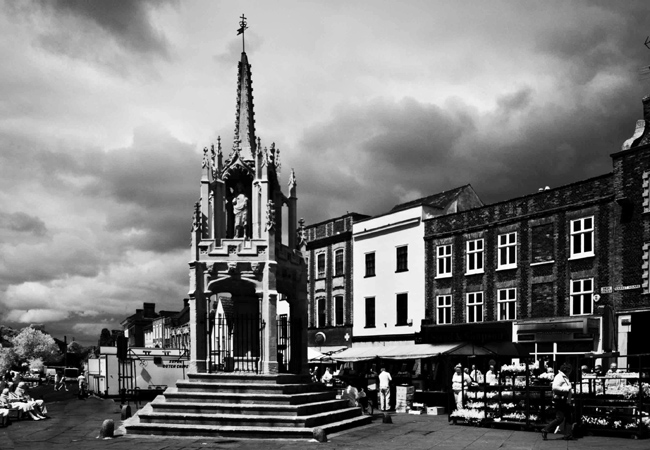 Leighton Buzzard, Bedfordshire
The structure in the foreground is a particularly fine example of a medieval market cross. A stone cross, which symbolised a community's right to hold a market, was a focal point in most medieval towns. Naturally it marked the site of the market (as is still the case today in Leighton Buzzard), but other public events (including celebrations) would also have taken place here. It was here, too, where people would gather to hear important news.
Leighton's market cross is thought to date from the mid-fifteenth century. As the town's market dates back to 1086 (and possibly even earlier), it must have replaced an earlier structure, almost certainly on the same site. The unusual pentagonal design may be a reference to the five wounds of Christ, which was the focus of a thriving cult at this time. The canopy features five original statues, including representations of Christ the King, the Virgin Mary and St John the Baptist. Fortunately the cross survived the upheavals of the sixteenth and seventeenth centuries, when much religious imagery was destroyed.
The cross was probably commissioned by Alice, Duchess of Suffolk (d. 1475). Alice was a descendant of Geoffrey Chaucer, the famous poet. She outlived her husband, William de la Pole (who was murdered in 1450), and she was the dominant personality in the local area for much of the Yorkist period. Her career reminds us that women could exert considerable influence during the later middle ages. After her husband's death she retained a significant portion of her family's lands, as was the custom, giving her a great source of independent wealth. Alice was also the driving force behind extensive building at nearby Ewelme (where she and her husband founded a school and almshouses) and she is commemorated in the church there by a remarkable 'cadaver' tomb.
| | |
| --- | --- |
| | |