St Albans Abbey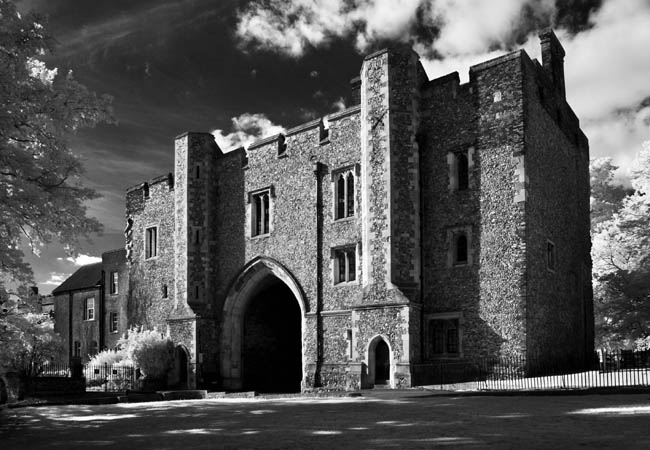 The Great Gatehouse, St Albans, Hertfordshire



During the Yorkist period this was the main entrance to St Albans Abbey, one of England's foremost monasteries. It was built around 1365 on the orders of Abbot Thomas de la Mare. Two important battles were fought at St Albans during the Wars of the Roses, in 1455 and 1461, but the Great Gatehouse has stronger associations with more peaceful aspects of the Yorkist era. The building housed one of England's earliest printing presses, which was established here by 1479.

For much of the Middle Ages St Albans was famous for its scriptorium; monks who worked here included the well-known chroniclers Matthew Paris and Thomas Walsingham. It is therefore likely that the new printing press was intended to revive the abbey's tradition of learning, which was then in sad decline. The first book printed at St Albans was a primer of Latin, which was probably designed to be used in the abbey's school. This was followed two years later by four scholarly books, all in Latin, which are concerned with matters of theology and philosophy. However, the St Albans press's most celebrated publication, The Boke of St Albans, is in the vernacular and is much lighter in tone; whilst still ostensibly educational, this book is concerned with the arts of hunting, hawking and heraldry.

Rising literacy at this time created a growing demand for books, which England's earliest printers, most notably William Caxton, were quick to exploit. Nevertheless, printing at St Albans was short-lived, and there is no evidence of any further printing after 1486. After the Dissolution of the Monasteries the Great Gatehouse became the borough gaol. In 1870, however, the building was bought by St Albans Grammar School. The school, which is now an independent establishment, continues to use the Great Gatehouse to this day.
| | |
| --- | --- |
| | |