Warkworth Castle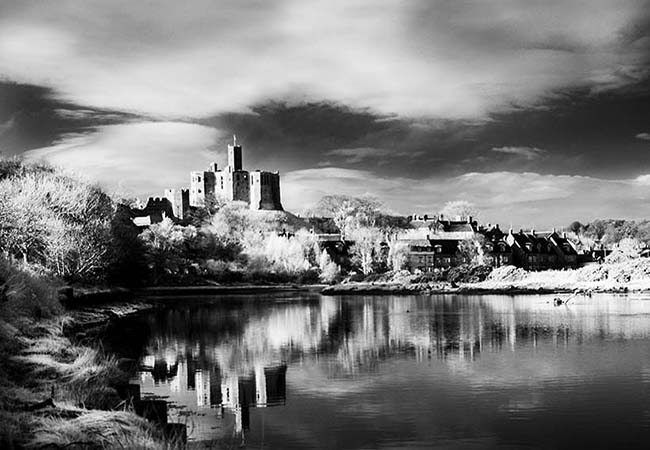 Warkworth Castle, Northumberland
Warkworth Castle was an important residence of the Percy earls of Northumberland. The castle is justly most famous for its great tower, or
donjon
. A masterpiece of design, combining practicality with elegance and grandeur, the donjon is one of England's most impressive medieval buildings. Whilst a number of dates have been put forward for its construction, from the 1370s to the early 1500s, it is now generally accepted to have been built in the 1390s. The donjon would therefore have dominated the surrounding area during the Yorkist period, as it still does today.
During the early stages of the Wars of the Roses the Percys were committed Lancastrians. The second earl was killed at the first Battle of St Albans, and after the third earl was killed at Towton the earldom of Northumberland was forfeited to the crown. In 1464 the earldom was granted to the Earl of Warwick's brother John, Lord Montagu. John Neville occupied Warkworth for the rest of the 1460s, and the castle's Montagu Tower was almost certainly built at his command.
Warwick's rebellions against Edward IV led to the restoration of the Percys, even though John Neville initially remained loyal. The Percy heir, Henry, held the earldom of Northumberland under all three Yorkist kings, although his forces failed to engage on behalf of Richard III at Bosworth (possibly due to the constrictions of the terrain, but this is uncertain). He eventually met his death at the hands of an angry mob in 1489, during a tax riot. Some of his predecessors were more powerful, but Earl Henry was wealthy, and he did leave his mark at Warkworth. His most significant legacy is the Lion Tower, whose decoration incorporates various heraldic symbols associated with the Percys, including a splendid lion. The castle is now in the care of English Heritage.
| | |
| --- | --- |
| | |