Wigmore Castle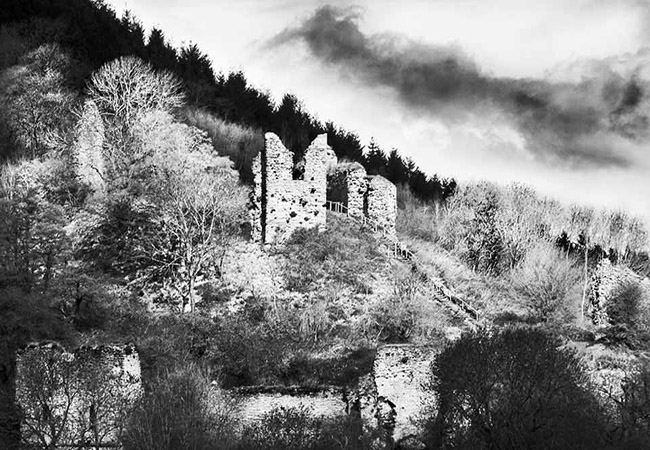 Wigmore Castle, Herefordshire
Wigmore Castle, seen here from afar, was one of the foremost castles of the Welsh Marches. For much of the Middle Ages Wigmore was the principal seat of the Mortimer family - from whom the House of York derived their claim to the throne. By the mid-fifteenth century the town of Wigmore had declined, losing trade and influence to nearby Ludlow. However, the House of York continued to hold the lordship and the castle, maintaining an important link with their Mortimer ancestors.
Edward IV grew up in the Marches. He spent much of his time at Ludlow, but he would also have known Wigmore. It may have been here that the young Edward developed his well-documented love of hunting. The name Wigmore is derived from the Welsh
guig mawr
, meaning 'great forest', and game would have been plentiful in the surrounding area. Edward was also probably at Wigmore when he witnessed a famous
parhelion
(an illusion of three suns in the sky), en route to the Battle of Mortimer's Cross - his first major victory. Edward interpreted the parhelion as evidence of divine sanction for the Yorkist cause, giving fresh heart to his men.
Visiting Wigmore today is an unusual experience, albeit one that would once have been familiar to visitors of ruined castles. Wigmore was partially demolished during the Civil War, and thereafter the castle was neglected. The site is now wild, and the remains are sparse, but it is an atmospheric place. When English Heritage acquired the property in 1995 a decision was made to conserve the castle as it was. There was some limited excavation and steps were taken to protect the masonry from further decay. Care was also taken, however, to protect the natural habitat that had flourished there for so long. The site is particularly notable for its wild flowers.
| | |
| --- | --- |
| | |